Current Issues
We are currently investigating an issue where video streams will freeze, or start over when using AirPlay on some Samsung, and LG Smart TVs

The CBC Gem app is available on all newer model Apple TVs (black remote). However, it is not available on older generation Apple TVs (silver remote) which do not have access to the Apple TV app store.

For those with an older model Apple TV, you can still AirPlay our content from an iPhone or iPad.

AirPlay is also available on select LG and Samsung Smart TVs produced after 2018.
You can read more about which LG TVs are compatible here
You can read more about which Samsung TVs are compatible here

Using an iOS device
1. Open the CBC Gem app on your iOS device and select the content you wish to play.
2. Tap or on the screen to bring up the video controls.
3. Tap on the Airplay icon in the bottom right corner of the player window and then select the device you want to AirPlay to.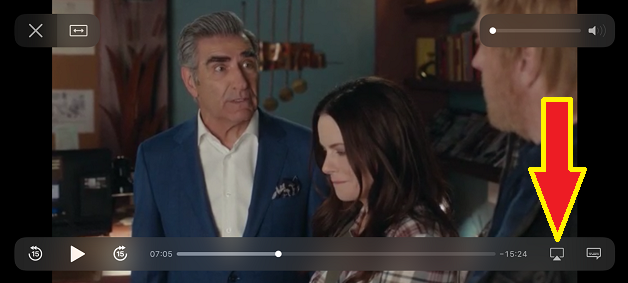 If you don't see your Airplay-enabled device try connecting your host device and Apple TV to the same Wi-Fi network. Also check that you have the latest software installed on your devices.
Using an Apple Computer
You can also mirror your screen from an Apple computer by selecting the AirPlay option
in the menu bar at the top of your screen.
However, mirroring your screen does not always offer the best quality video stream. We highly recommend using AirPlay via the CBC Gem app on an iOS device.
Please note - older model Apple TVs are not designed to handle streams running at 1080p. If you are using AirPlay via the Gem app, you may experiencing streaming issues with CBC News Network which streams at a max of 1080p.
Our app automatically adjusts streaming quality depending on available bandwidth. However if you are on a fast, steady connection, News Network will be presented at full 1080p. Therefore AirPlay may not be able to handle the stream properly.
For additional AirPlay information, please visit the following Apple help article >> https://support.apple.com/en-ca/HT204291