If you have registered as a premium subscriber, you have access to CBC News Network and can stream any of our on-demand content ad-free. Note that live streams will still contain ads. 
If you have a premium subscription but cannot access these features, please read the following carefully, and follow each step.
Ensure that you are properly logged in. 
Check your membership status in the My Account section of the app, which you can access via the menu. It should reflect your premium status, if it does not see below on Restoring your Purchase.
Check your iTunes Subscription status by visiting this page on an Apple Device: (https://buy.itunes.apple.com/WebObjects/MZFinance.woa/wa/manageSubscriptions).
If, at this point, you have verified that you are properly registered at the premium subscriber level and that you are signed-in, and the issue persists, please
Update the CBC TV app, if applicable.
Click on the Restore Purchases link in the CBC TV app's menu, as depicted below: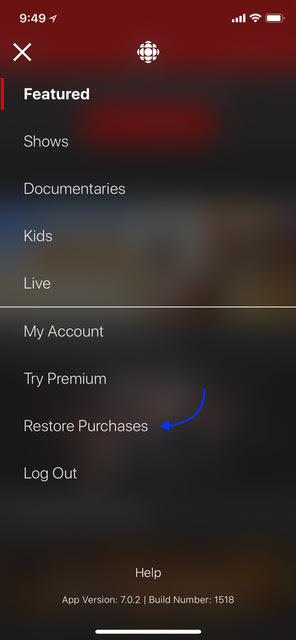 Restoring your purchases should rectify the problem. If the issue remains unresolved after trying the above, please submit a request through the Help Centre.